When I was asked to photograph the brand new Ford Mustang in the European specification for the Geneva Motor Show I was amazed. I saw myself staging the father of all muscle cars somewhere on Route 66 or on a lonely highway in a far far away country. Unfortunately this was not supposed to happen. Due to time and car availability restrictions, we had to move fast and shoot in Cologne. Weather conditions were bad and the racing red Ford Mustang was already prepared for the presentation at one of the most important motor shows this year – Geneva International Motor Show 2015. Even though the car had already been presented earlier to the public, this specific model is the first EU spec car Ford ever had in Europe. Ok – I can deal with pressure. Conditions could have been easier. When it comes to body color, presentation, logos, gap width or (most important) reflections for example, car executives can be really really picky. I experienced that with Volkswagen, Bentley, Audi and BMW before, so I was alarmed. Although this was not a catalogue shooting, I knew details and design lines are important.
There is no ultimate recipe for car photography shootings. It's a lot about the right location, timing, light setup, camera, format and last but not least post production including 3D usage. At VUCX we have a lot of experience especially with the compositing, 3D creation and retouching post production process. The shooting was scheduled for Tuesday, Feb. 24 – we had the car in front of our lense for five hours only. As location we (client and me) decided to shoot in a giant hangar on the Ford factory premises in Cologne. With the beautiful window arches, patinated columns and an industrial floor an ideal location with nice urban flavour.
I decided to go for independency from power therefore I rented a couple of Pro-B4 and Profoto Pro-B3 Airs with Profoto ProHeads, striplights (softboxes) and grids. I'm a big fan of Briese Lichttechnik and own a Focus 220 myself. But for this kind of job Briese doesn't have the right softboxes (striplights) out of the box. There longest striplight is 200 x 85 cm. But 85 cm is very wide. I wanted to have a nice shaping light on the side of the car. Profoto has this nice striplight 180 x 30 cm, which was my choice. Briese have masked diffusers and zoom possibilities, but somehow I felt a bit more comfortable using the very lightweight and compact Profoto equipment – especially due to planned battery usage.
I mainly shot bracketed series of five or even seven (one stop) using (most of the time) the tripod. Aperture at 8.0. At the end it was getting a bit hectic since the Mustang had to leave for Geneva. So the interior shots were single shots only. I trusted the impressive amount of dynamic range of my Nikon D800 and its RAWs. Due to time restrictions we had to deliver the final shots two days later. We are talking about 13 master shots in total. My amazing post production team (Taner and Nicklas) agreed on the following workflow:
1. Quick lighting adjustments
2. The master shots were masked and retouched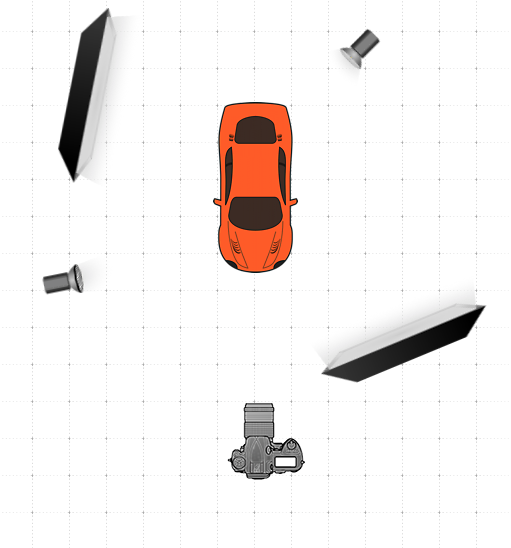 3. Color adjustments
4. Final crops and retouching impurities
5. Lighting adjustments
6. Color adjustments
The bracketing helped us to have varieties of pictures with defined curves, deep shadows as well as clean highlights. I never intended to create HDR out of that. I don't like the washed-out look for such a project. Due to heavy time restrictions we were not able to work with 3D assistance. Sometimes 3D helps you to replace parts which were not lit correctly, and/or where the painting has too much or not correct reflections etc. But it takes time to render the correct parts in the right positions, especially in print resolution. We have a render farm with 192 threads power. But even then working in print resolution sometimes sometimes tricky.
We have the Eizo CG 241 monitors with factory-adjusted gamma, hardware calibration and an exceptionally wide color gamut, which helps us to judge the colors without printing a proof. With Adobe RGB: 96% and sRGB: 98% you can be pretty sure what the results are.
Check out the making-of:
Making-of Car Photography Ford Mustang 2015 from VISION UNLTD. CREATIVE WORX GmbH on Vimeo.
Equipment used:
– Nikon D800
– Nikon AF-S Zoom-Nikkor 24-70mm 1:2,8G ED – I love this flexible and outstanding results delivering lens
– Remote control for the Nikon – not touching the camera is the best way to utilize the full megapixel power of the D800
– (My very very old) Gizo tripod
– Profoto Pro-B4 & Profoto Pro-B3 Airs with Profoto ProHeads with zoom reflectors and grids
– Softboxes/Striplights 180cmx30cm (6×2)
– Black Molton